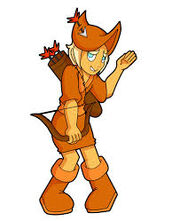 Archy appeared in TTA as Ericho .
Archy first appeared in episode 7 as a fan of Kirbopher's. He wanted to be Kirb's partner in the Gemini Tournament but was denied to to Kirb wanting to be paired with Alpha. Archy eventually got his wish after Alpha told Kirb that he was already partnered with Flamegirl, however, he lost to Rockoon in his first match, with Kirb later forfeiting to Zetto and Kizuna. Episode 8 has so far been Archy's last appearance.
Ad blocker interference detected!
Wikia is a free-to-use site that makes money from advertising. We have a modified experience for viewers using ad blockers

Wikia is not accessible if you've made further modifications. Remove the custom ad blocker rule(s) and the page will load as expected.